Eyelash Extensions
Gorgeous semi permanent Eyelash Extension that naturally enhance the beauty of your eyesEyelash extensions are the hot new rage. Semi-permanent eyelash extensions that give you longer, thicker and very natural looking eyelashes. They look so natural noone will know they are not yours! Individual single strands of man made fibre, which are shaped to mimic the natural eyelash, which are adhered to your existing lashed, not the eyelid. With proper care they can last as long as the remaining lifetime of the natural lashes. You will receive step-by-step instruction manual with this course.One day Intensive courses commencing from 10am
Course Content
•How Eyelash extension work
•Benefits
•Contra-indication
•Equipment & Materials
•Eyelash Ext. Application
•Eyelash Curves, thickness, and length
•Removal application
•Trouble shooting
•Eyelash Extension tips
•Patch Test
•Relevant Anatomy & Physiology
•Hygiene and Sterilisation Methods
•Laws & Acts
•Code of Ethics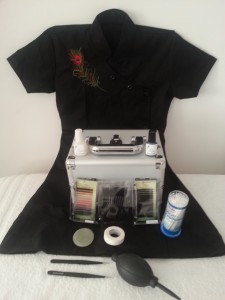 Lash Elegance Kit Containing following which is included in our Course Price
 Tunic of your size (Whilst stock lasts)
A silver vanity box
Tray of B curl various length lashes
   8mm  B Curl
   10mm B Curl
   12mm B Curl
   14mm B Curl
Tray of Rainbow lashes (whilst stock lasts)
Bottle of Adhesive
Bottle of Remover
Pack of 10 Mascara Brushes
Tub of 100 Microfibre removal brushes
Jade Stone
Micropore Tape
x 2 Tweezers
Air blower
– Full Kit To Complete the course and the kit is exactly how it is on the picture
– Step-by-Step Training Manual – No Case Studies Required
– Fully Insurable Certificate to obtain public liability insurance
– You will be able to apply eyelash extensions after completing this course
– You will be taught by qualified tutor with years of experience to pass on all the Hints and Tips of the technique.
– No experience or previous qualifications necessary. Students are required to work on each other therefore ensure that your eyelash extensions are removed prior to attending the course.
The course carries 11 CPD Points
We are Eyelash Extensions Distributors, therefore student will be able to order future products from www.lashelegance.co.uk and receive 10% regular discount.
– See more at: http://www.lashelegance.co.uk/training-2/ultimate-eyelash-extensions-course/
All our Courses at Archana Hair and Beauty Training are Accredited and certified for you to get liability Insurance, and our Eyelash extension course carries 11 CPD points
Social tagging:
beauty course
>
eyelas extensions
>
eyelash extension course
>
eyelash extension training